A Quick Overview Of Hostgator's History And Background.
HostGator is a leading web hosting company with its headquarters in Houston, Texas and Austin, Texas. It hosts over 9 million domains and has over 850 employees that offer around the clock support and services.
Hostgator has been around since 2002, and has won so many awards.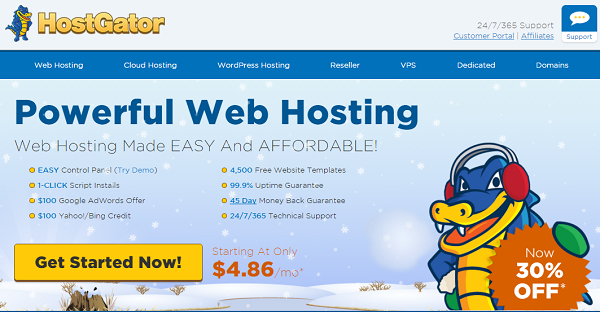 The company is generally reputed as one of the biggest hosting companies in the world and also one of best web hosting services online.  It is one of the most popular  names in the web hosting space. The company is a reputed web hosting provider that offers comprehensive services to its clients from around globe.
HostGator grew quickly to become one of the largest due to their great shared hosting plans, reliable web hosting, and quality customer service.
The Company Background
HostGator which is a privately owned company was founded by Brent Oxley, during his university days in 2002, who then became the CEO.
The hosting company started in Florida, but later moved to Texas in 2007 due to its rapid growth and expansion. They have two U.S. based data centers in Houston and Provo, Utah.
Hostgator was later acquired in 2012 by Endurance International Group (EIG) who also owns other hosting companies like Bluehost.com, (another highly reputable web host), HostMonster,  Justhost, iPage, Fatcow, among others.
Hostgator also has some subsidiaries in India, hostgator.in). and in Brazil,  hostgator.com.br.
What is HostGator?
HostGator is a world leading provider of web hosting. The company has been around for well over a decade and is well-respected globally for their large number of servers and their consistent reliability.
It is one of the largest and most popular web hosting companies in the world. Over nine million domains are hosted on HostGator servers which generate about 1% of the world's online traffic. The hosting service provider serves customers ranging from small business owners, bloggers, to Fortune 500 companies in more than 200 countries.
The company offers shared hosting, VPS hosting, dedicated servers, and managed WordPress hosting plans. It has a number of hosting plans that are built for a wide and diverse range of functions and subscribers.
Very popular as a shared hosting provider, HostGator is well respected for their dedicated and VPS hosting while ranking #1 for their hostgator cloud hosting.
The company at present hosts over 9 million domains with over 400,000 customers in over 200 countries. Its 1-click WordPress installation, 99.9% up time guarantee, 24/7 support and other features, make it one of the most popular web hosts in the industry worldwide.
It has tons of features, although not all these features are available in the basic hosting package.
Hostgator makes it free and easy for you to transfer your website from other web hosts to your new hosting account on their server.  The web hosting company has everything you need in one place – domains, hosting, website builder tools, and more.
It has various options for building a website, including HostGator's own website builder. It has the standard suite of hosting options for people looking for web hosting.  Hostgator is a provider of dedicated, reseller, VPS, and shared web hosting. It is also a very good choice for building micro-niche sites on the same account.
With over 90% customer satisfaction and 12,000 servers under its
HostGator costs a little more than some other shared hosts, but you can gain much more from their offer of decent features included in their basic hosting plans and freebies, unlimited disk space, a nice control panel, and free website templates, their reliability and well-known support.
HostGator.com Past Awards
Best Host, WordPress Hosting Review, 2011
Best Host, Joomla Hosting Review, 2011
Best Free Website Transfer, Web Hosting Reviews, 2011
Best Small Business Hosting, Web Hosting Clue, 2011
Code of Conduct Award, Web Hosting Search, 2011
#2 Best Web Hosting, Find My Host, 2012
#1 Host for Bloggers, Blogging.org, 2012
Best Host, WordPress Hosting Reviews, 2012
Best Host, Joomla Hosting Review, 2012
2016 Best Web Hosting Editor's Choice
Best Web Hosting of 2016
Best Dedicated Web Hosting of 2016
Best Managed WordPress Web Hosting of 2016
Best Shared Web Hosting of 2016
Best Web Hosting for Business, WPBeginner 2016
Multiple Editor's Choice awards for overall web, Shared, Dedicated Server, and Managed WordPress hosting plans, PC Magazine 2016
Best Host, HostingAdvice.com 2016
Overview of HostGator Features
PHP
WordPress
ASP
Uptime guarantee
Money-back guarantee
Backups
MySQL
Perl
cPanel
HostGator Web Hosting Review: PROS and Cons of using HostGator
Pros
The company has been around for well over a decade, highly respected and one of the best hosting service providers.
Reliable hosting packages, straightforward, and affordable service.
Cheap, reliable, inexpensive, comprehensive and easy to use.
HostGator Cloud Ranks #1 and is therefore recommended.
HostGator uses the latest cPanel software to power their administration consoles.
You can cancel your plan and receive a prorated refund, which is unique in the world of web hosting.
Hostgator uptime is very high. Their uptime is 99.95% (.16% better than industry average)
24/7/365 support is available via live chat, telephone (with hostgator customer care toll free number), email, fax, or snail mail, ticket system, and an online knowledge base.   
The customer service is very helpful, technical support informative and very responsive.
The support staff is very knowledgeable and highly competent.
If you require telephone support, waiting times are reasonably short and staff is very professional.
1-click installs available for all of the major open-source projects, such as WordPress, Joomla, and Magento.
Easy to install and configure emails.
If you don't like your plan, you can cancel it within 45 days and receive a refund.
They offer many different packages to suit various needs.
It comes with cPanel, which is a very user friendly control panel that builds on a graphical interface.
You get access to a lot of tools to help you managing your website much easier.
The uptime is amazing and a fast server. This is incredibly important for websites, as any downtime means that customers cannot come to your site. HostGator boasts one of the best uptimes in the industry.
Hostgator is very User Friendly for Beginners. One of the main attractions to HostGator.com is their cpanel that is very user-friendly for beginners. This is a very important advantage when you consider the interfaces of some web hosts that are unnecessarily difficult for beginners to understand, or use and work with when they are just starting out.
The hosting company also has 100s of tutorials, FAQ pages, and documents to help you at every point, with very clearly explained and detailed explanations and simple step-by-step walkthroughs.
Flexible billing periods. You can choose from monthly to yearly billing periods. Longer billing periods will get you the most hostgator hosting discount.
 Hostgator has Free Migration Service.
45-Day Money Back Guarantee. In most cases, majority of the web hosts offer a standard 30-day money back guarantee. HostGator on the other hand goes a step further by offering money back guarantee up to 45 days. This advantage gives you an extra two weeks opportunity to properly test drive their hosting service before committing yourself to any long term hosting offer of one-to-three-year-hosting-term.
Unlimited bandwidth, disk space, and email accounts.
Variety of hostgator promo from time to time as well as hostgator hosting discounts
 Free automatic Enhanced Security for all hosting plans.
Free SSL certificate for processing website transactions.
Cons
 Hostgator is affordable and very cheap, but on the long run they are not the cheapest. There are still other cheaper web hosts out there.
No free domain: A lot of other web hosting companies do give a free domain during sign up. Unlike bluehost.com and many other hosting companies, HostGator does not offer a free domain registration when signing up.
Only one domain hosting allowed with the basic plan.
Does not offer one-step WordPress import
Aggressive upselling: You need to be very careful and properly review any additional services offered during your sign up process. If you are unsure of any, just uncheck them. You can always add any of them that is essential to you later when needed.
The Hatchling Plan does not offer very much, unless you are totally new and you are just starting out.
The shared hosting could at times be overloaded and crammed.
Extra Fee of $15 for 'True' Backups annually.
Standard Pricing 'Tricks'. Hostgator.com offers very low promotional rates for your initial hosting term ONLY. Once your hosting plan expires and you want to renew, the rates will jump back up to the company's 'normal' pricing plan, which may at times be more than double the original price.
If you want to enjoy hostgator's low promotion rates, you have to sign up for at least three years hosting.
In the recent years, the customer service levels have been dropping appreciably. The waiting time has been longer. The reasons many customers have been complaining online and creating a bad image for hostgator. Most of these complaints may be isolated cases.
At times, some of their technical staff could be very arrogant and irrational.
There was a widespread of hacking in 2011 that affected 1000s of websites on different web hosts because of a loophole in a script used by all those websites. My website on hostgator was among the hacked, since the same script was one of the scripts that powered my website then.
While some hostgator technical staff were kind enough and prompt to respond and  restore many of the affected websites on hostgator's server when complaints were lodged about the hacking of their sites, the technical staff that handled my own site refused to restore my website.
He insisted I must update that particular script before he would restore my website. When I lodged a complaint later that the product seller had closed down shop, and would prefer to uninstall the script, the support staff still refused to do anything.
After six months of waiting without any help, I abandoned the website files running into over 50,000 pages which included an article directory that was bringing most of the organic traffic then to my site and also lost my web site page rank in the process. This taught me a great lesson. To backup my database twice a week.
Besides this terrible experience, I never had any serious issue with hostgator. The staff have always been very professional, helpful and prompt, much better than Arvixe.com.
 How Much Do HostGator Hosting Plans Cost?
 HostGator Shared Web Hosting Plans Pricing.
HostGator offers three types of shared website hosting packages starting from $3.96/month for their Hatchling Plan.
HostGator Shared website hosting packages pricing is as follows:
Hatchling Plan – Starting at $3.96/mo
Single domain
Unlimited disk space
Unlimited bandwidt2
Shared SSL certificate
Baby Plan – Starting at $6.36/mo
Unlimited domains
Unlimited disk space
Unlimited bandwidth
Shared SSL certificate
Business Plan – Starting at $10.36/mo
Unlimited domains
Unlimited disk space
Unlimited bandwidth
FREE private SSL & IP
FREE Toll-Free Number
 

Shared Web Hosting Plans

| | | | | | |
| --- | --- | --- | --- | --- | --- |
| Shared Hosting Plans | No. of domains | Bandwidth | Storage | No. of emails | Price |
| Hatchling Plan | 1 | Unlimited | Unlimited | Unlimited | $4.86 |
| Baby Plan | Unlimited | Unlimited | Unlimited | Unlimited | $6.96 |
| Business Plan | Unlimited | Unlimited | Unlimited | Unlimited | $10.46 |
HostGator Cloud Hosting Pricing
Cloud hosting up to 2X faster load times due to low-density servers, premium hardware, and multiple caching layers,
4X more scalable intuitive dashboard
Your website content is managed more efficiently, enabling dynamic content requests to be processed lightening-fast.
Starting at only $4.95/month for Hatchling Cloud Plan.
Failover' If a hardware issue arises, your site can be switched to another server.
 

Hatchling Cloud

 

Baby Cloud

 

Business Cloud

 

Domains

1
Unlimited
Unlimited
Available CPU
2 Cores
4 Cores
6 Cores
Available Memory
2 GB
4 GB
6 GB
Local Caching
Yes
Yes
Yes
Dedicated IP
No
No
Yes
SSL
–
–
Private
Sub Domains

Unlimited

Unlimited
Unlimited
Parked Domains
–
Unlimited
Unlimited
Bandwidth
Unmetered
Unmetered
Unmetered
Storage
Unmetered
Unmetered
Unmetered
 Price

$4.95/month

$7.95/month
$9.95/month
HostGator WordPress Hosting Pricing
Built for Speed Advanced Security  Free Migrations
Starting at only $5.95/month for Hostgator managed wordpress hosting starter plan
Starter Plan

Standard Plan

Business Plan

Max No. of Sites

1

2

3

Monthly Average Site Traffic

100,000

200,000

500,000

Relative Compute Power

2X

2X

5X

100% Free Migration

1 Sites Max.
2 Sites Max.

3 Sites Max.

Automated Daily Database Backups
Including File-Level Restore

1 GB

2 GB

3 GB

Email Accounts

Unlimited

Unlimited

Unlimited

Storage Space

Unmetered

Unmetered

Unmetered

Google Adwords Credit

$100

$100

$100

 Price

$

5.95

/month

$

7.95

/month

$

9.95

/month
HostGator VPS Hosting Plans Pricing
VPS Hosting Plans
| | | | | | | |
| --- | --- | --- | --- | --- | --- | --- |
| | No. of domains | Storage | Bandwidth | RAM | No. of IP addresses | Price |
| Snappy 500 | No info | 25 GB | 500 GB | 512 MB | 2 | $11.97 |
| Snappy 1000 | No info | 60 GB | 1 TB | 1000 MB | 2 | $33.97 |
| Snappy 2000 | No info | 120 GB | 1.5 TB | 2000 MB | 2 | $57.97 |
| Snappy 4000 | No info | 165 GB | 2 TB | 4000 MB | 2 | $81.97 |
| Snappy 8000 | No info | 240 GB | 3 TB | 8000 MB | 2 | $99.97 |
HostGator Dedicated Server Hosting Plans Pricing

Dedicated server plans
 
Storage
Bandwidth
RAM
No. of IP addresses
Type of processor
Price/mth

Value Server Linux


1 TB HDD
Unmetered
8 GB
2
4 Core / 8 Thread
Intel Xeon-D CPU
$

119.00

Power Server Linux

2 TB HDD or 512 GB SSD
Unmetered
16 GB
3
8 Core / 16 Thread
Intel Xeon-D CPU
$

139.00

Enterprise Server Linux
1 TB SSD
Unmetered
32 GB
4
8 Core / 16 Thread
Intel Xeon-D CPU
$

149.00

Value Server Windows
1 TB HDD
Unmetered
8 GB
2
4 Core / 8 Thread
Intel Xeon-D CPU
$

119.00

Power Server Windows
2 TB HDD or 512 GB SSD
Unmetered
16 GB
3
 8 Core / 16 Thread
Intel Xeon-D CPU
$

139.00

Enterprise Server Windows


1 TB SSD
Unmetered
32 GB
4
8 Core / 16 Thread
Intel Xeon-D CPU
$

149.00
Hostgator Reseller Web Hosting Plans Pricing
Hostgator Reseller Hosting Review
Reseller hosting is designed for those who want to start their own web hosting companies and resell hosting services to make money.
You brand your own hosting service.
You promote your own hosting company and allocate resources according to your clients' needs and your own hosting plans.
With Hostgator Reseller Web Hosting Plans
You have access to the latest cPanel Control Panel
Unmetered Domains, Subdomains, Email Accounts, MySQL Databases, FTP Accounts
You manage and receive ongoing income from your customers, and bundle hosting with other services you offer.
Latest WHM Control Panel with Multi-language Availability
Unlimited POP3 Email Accounts with SMTP
Unlimited MySQL Databases with phpMyAdmin Access
Free Reseller Club Account
With any of the hostgator web hosting reseller plans, your customers would have access to over 400 Brandable Video Tutorials.
You can always upgrade your hosting free as your business grows.
Your HostGator reseller plan includes for free WHMCS (a comprehensive client management and billing software) which integrated into all reseller plans. The software enables you to handle the billing of your customers independent of Hostgator.
Hostgator Reseller Web Hosting Plans
| | | | |
| --- | --- | --- | --- |
|   | Aluminium | Copper | Silver |
| Disk Space | 60 GB | 90 GB | 140 GB |
| Bandwidth | 600 GB | 900 GB | 1400 GB |
| Domains | Unlimited | Unlimited | Unlimited |
| First Month | $19.95/mth | $24.95/mth | $24.95/mth |
Final Thoughts
On a final note and to be honest with you, there is no web hosting provider out there that is perfect without a series of complaints from some customers online. Different customers have different needs and expectations. Every web hosting service provider has its own share of problems and complaints due to fierce competition, market pressure in the shared hosting industry. Host Gator is not an exception.
HostGator.com is one of the top rated hosting companies and I really do like them. I highly recommend their web hosting service.
Over 2 million customers do trust HostGator with their website hosting. From a research and customer reviews carried out by financesonline.com on Social media, the negative complaints from Hostgator's customers are far less than 1.5%.
Whether you are just starting out with your first website, or you are a highly experience internet marketer or a seasoned webmaster, you'll find the right hosting plans and the necessary tools to bring your website to next level.
There are even extra tools to help you with your search engine optimization. These are additional benefits and especially valuable if you want to capture organic search traffic. That helps you to get buyer traffic to your website as the prospects are finding your site through the search engines instead of you hunting for them.
In summary, HostGator is legit, very reliable and a customer friendly hosting service. Their 24/7 customer support is among the best in the hosting industry.
Just like bluehost, HostGator as one of the best WordPress hosting companies.
HostGator has so many hosting plan available for their customers. If you want to host multiple web sites, hostgator offerings make them a right choice for you."
Easy-to-use control panel
FREE Weebly site builder
Unlimited disk space, emails, and bandwidth on all plans
No contract required and 45-day money-back guarantee
More than 50% off your first month hosting plan!
Less than $1 host deal for your first month.
If you enjoyed or have benefited from this post, kindly "like and share" so others can also benefit from it!
Are you a customer of Hostgator, let's hear about your own experience also.
Thanks.